Appliance Repairs in Billingshurst: Your Trusted Local Service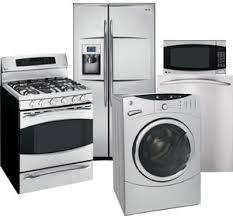 At Green Appliance Repairs, we understand the frustration and inconvenience that arises when your household appliances malfunction. That's why we're here to provide fast, reliable, and cost-effective appliance repair services in Billingshurst and the surrounding areas. With a team of skilled technicians and a commitment to customer satisfaction, we're your go-to choice for appliance repairs in Billingshurst area.
Our Appliance Repair Services:
At Green Appliance Repairs, we specialize in the repair of a wide range of household appliances, including:
Local Domestic Appliance Repairs
Washing Machines: Is your washing machine making unusual noises, not draining properly, or leaving your clothes less than clean? We'll diagnose and repair the issue promptly.
Dishwashers: A malfunctioning dishwasher can disrupt your daily routine. We're experts in fixing everything from water leakage to poor cleaning results.
Refrigerators and Freezers: If your fridge isn't keeping your food cold or your freezer is defrosting, our technicians will get it back to its optimal temperature.
Ovens and Cookers: From faulty heating elements to broken timers, we'll ensure your oven and cooker work efficiently and safely.
Tumble Dryers: Dryer not drying as it should? We'll identify the problem and have your laundry drying quickly again.
Microwaves: When your microwave stops heating or has electrical issues, we'll restore its functionality.
Why Choose Us:
Local Experts: We're a locally owned and operated business, proud to serve the Billingshurst community. Our technicians are familiar with the area and can respond quickly to your appliance repair needs.
Skilled Technicians: Our team comprises highly skilled and certified technicians who are well-versed in repairing a wide range of appliance brands and models.
Prompt Response: We understand the urgency of appliance repairs. That's why we offer quick response times to get your appliances back in working order as soon as possible.
Affordable Services: We believe in transparent pricing and competitive rates. You'll always know what to expect, with no hidden costs.
Guaranteed Satisfaction: Your satisfaction is our priority. We stand behind our work, offering a satisfaction guarantee on all our appliance repair services.
Flexible Scheduling: We accommodate your schedule, offering flexible appointment times to fit your convenience.
Reliable Domestic Appliance Repairs
When your household appliances suddenly stop working, it can throw a wrench into your daily routine. At Green Appliance Repairs, we understand the importance of these domestic appliances, in your life, which is why we're here to provide dependable and expert domestic appliance repair services across the UK.
What the TrustATrader Guarantee Easily Covers:
Workmanship Guarantee: When you hire a TrustATrader member for appliance repairs in Billingshurst, the guarantee easily covers the quality of workmanship. If the completed work for appliance repairs in Billingshurst falls short of the agreed-upon standards or expectations, the guarantee provides reassurance that the issue will be addressed to your satisfaction.
Timely Completion: The TrustATrader Guarantee takes into account the agreed-upon project timeline. If your project isn't completed within the specified timeframe, the guarantee ensures that steps will be taken to expedite the work and minimise delays.
Materials and Products: If your project requires specific materials or products, the guarantee provides assurance that the items you've paid for will be of the agreed-upon quality and will be used as intended in the project.
Transparent Pricing: TrustATrader members commit to transparent and fair pricing. The guarantee easily covers instances where unexpected or hidden costs arise, ensuring that you won't be overcharged for the services provided.
Safety and Compliance: TrustATrader members are expected to adhere to health and safety regulations. The guarantee easily covers safety concerns and compliance issues, ensuring that your project is executed without risks or legal infringements.
Customer Satisfaction: The TrustATrader Guarantee places a strong emphasis on customer satisfaction. If you're dissatisfied with any aspect of the service, from communication to project outcomes, the guarantee ensures that your concerns are addressed.
Reputable and Vetted Traders: TrustATrader thoroughly vets and checks the credentials of its members. The guarantee easily covers the reliability and reputation of the trader, so you can trust that you're working with a reputable professional.
Dispute Resolution: In the rare event that a dispute arises, the TrustATrader Guarantee offers a clear mechanism for resolution. This ensures that conflicts are handled fairly and equitably, with the goal of reaching an acceptable resolution for all parties involved.
Continued Support: The guarantee extends beyond the completion of your project. It provides assurance that, in case of any issues or questions after the work is finished, TrustATrader and its members will continue to provide support and assistance.
Contact Us Today:
When your appliances are on the fritz, don't let it disrupt your daily life. Contact Green Appliance Repairs for fast and reliable appliance repairs in Billingshurst. Our team is ready to tackle the most challenging repair tasks, providing efficient solutions to get your appliances back to their optimal condition.
The range of appliances we repair and service includes…
Washing Machines
We repair all the current and leading makes and models of washing machines.
Tumble Dryers
We service and repair all leading makes and models of tumble dryers
Washer Dryers
Our engineers are familiar with all the current models of washer dryers
Dishwashers
All the leading makes and models of dishwashers serviced and repaired
Electric Cookers
We repair all the current and leading makes and models of electric cookers
Electric Ovens
We service and repair all leading makes and models of electric ovens
Electric Hobs
Our engineers are familiar with all the current models of electric hobs
Intergrated Appliances
All types of intergrated appliances serviced and repaired by our engineers
And More
The highest standards in the Domestic Appliance Repair Trade… Find out more.
Send a Message
Click here to send an Email