Expert Appliance Repairs in Caterham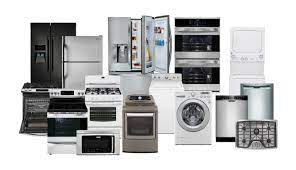 When your appliances break down, it can disrupt your daily routine and cause unnecessary stress. That's where we come in. Welcome to our Appliance Repairs in Caterham service area, your trusted partner in restoring the functionality of your essential household appliances. With a team of highly skilled technicians and a commitment to exceptional service, we are here to provide you with reliable, safe and efficient appliance repairs that you can count on.
Our Dedication to Caterham
Caterham is a vibrant community nestled in the heart of Surrey, known for its picturesque surroundings and tight-knit neighbourhoods. We understand the key importance of keeping your household running smoothly in such a wonderful place, and that's why we've made it our mission to offer top-notch appliance repair services to the residents of Caterham and its surrounding areas.
Why Choose Us for Appliance Repairs in Caterham?
1. Expertise You Can Trust
Our team of technicians is composed of very qualified and skilled professionals with years of experience in appliance repairs repair service. They are trained to handle a wide range of appliances, from refrigerators and washing machines to ovens and dishwashers. We keep ourselves updated with the latest industry trends and technologies to ensure that we can provide the best possible service.
2. Prompt and Reliable Service
We understand the inconvenience that comes with a malfunctioning appliance, which is why we prioritize prompt service. When you contact us for appliance repairs in Caterham, we aim to schedule a technician to visit your location at an hour of your earliest convenience. Our goal is to minimize downtime and get your appliances repaired and up and running as soon as possible.
3. Comprehensive Repairs
Our expertise covers a wide variety of appliance brands and models. Whether you have a high-end appliance or a more budget-friendly one, we have the knowledge and tools to diagnose and repair the issue. From simple fixes to complex repairs, we've got you covered.
4. Transparent Pricing
We believe in fair and transparent pricing. Before we start any repair work, we provide you with a complete and detailed estimate of the cost of repairing, so you know exactly what to expect. There are no hidden fees or surprises – just honest and upfront pricing.
5. Customer Satisfaction Guaranteed
Our primary goal is your satisfaction. We take pride in our work and stand by the quality of our repairs. If you're not completely satisfied with parts of the job or the service we provide, we'll do whatever it takes to make it right.
6. Rooted in Caterham
Our profound understanding of Caterham's lifestyle choices and the significance of timely services makes us uniquely qualified to cater to local needs.
7. Appliance Expertise
From the most advanced smart refrigerators to the classic first ovens and models, our technicians are skilled in repairing appliances of all makes and models.
8. No Hidden Charges
Honesty is our policy. We provide a clear cost breakdown before we start, ensuring transparency in every transaction.
9. Continuous Training
In the rapidly evolving world of technology, our team regularly upgrades its skills, ensuring we have engineers who can handle even the latest appliance models.
10. Punctuality is Paramount
We understand the value of your time. When you visit choose Appliance Repairs in Caterham, expect us at your doorstep, right on schedule.
Our Domestic Appliances Repair Services in Caterham
1. Refrigerator Repairs
A malfunctioning refrigerator can lead to food spoilage and inconvenience. Our technicians and engineers are well-equipped and ready to diagnose and repair issues with your fridge, whether it's not cooling, making unusual noises, or experiencing leaks.
2. Washing Machine Repairs
Don't let a broken washing machine pile up your laundry. We can fix common, washing machines and machine problems like drum issues, drainage problems, and more, so you can get back to clean clothes in no time.
3. Oven and Cooker Repairs
Is your oven not heating evenly or not turning on at all? Our experts can handle oven and cooker repairs efficiently, ensuring you can continue preparing delicious meals for your family.
4. Dishwasher Repairs
A malfunctioning dishwasher can disrupt your kitchen routine. Our technicians are skilled in diagnosing and repairing dishwasher problems, including issues with drainage, water supply, and more.
5. Other Appliance Repairs
We also provide our warranty and repair services for other household appliances such as microwaves, freezers, and more. No matter the make or model, we're here to help.
Why Domestic Appliances Matter
Domestic appliances have become indispensable in Caterham households, just as they have in homes across the UK. They simplify our lives, save us time, and ensure our comfort and convenience. Whether it's a malfunctioning refrigerator, a temperamental oven, or a noisy dishwasher, the inconvenience of a broken appliance can disrupt your daily routine and add unnecessary stress.
Booking Your Appliance Repair in Caterham
Getting your appliance repaired with us is simple and hassle-free. Here's the details on how it works:
Contact Us: Reach out to us through our website or phone to schedule an appointment for your appliance repair in Caterham.
Diagnosis: Our technician will arrive at your location at the scheduled time to diagnose the issue with your appliance.
Transparent Estimate: You will receive a detailed estimate of the repair cost before any work begins.
Efficient Repair: Once you approve the estimate, our technician will start repairing your appliance using high-quality parts and equipment.
Quality Assurance: We conduct thorough testing to ensure your appliance is functioning correctly.
Customer Satisfaction: We want to hear from you! Your feedback is essential, and we ensure you're completely satisfied with our service.
Contact Us for Appliance Repairs in Caterham
If you're in an area in need of reliable and professional appliance repairs in the Caterham area, don't hesitate to get in touch with us. We are here to make your life easier by ensuring your appliances work seamlessly, so you can focus on the things that matter most to you.
Our team is ready to assist you, and our commitment to excellence is second to none. Contact us today to schedule your appliance repair, and let us bring convenience back to your home appliance repair here in Caterham. We look forward to serving you and becoming your trusted appliance and repair service partner.
The range of appliances we repair and service includes…
Washing Machines
We repair all the current and leading makes and models of washing machines.
Tumble Dryers
We service and repair all leading makes and models of tumble dryers
Washer Dryers
Our engineers are familiar with all the current models of washer dryers
Dishwashers
All the leading makes and models of dishwashers serviced and repaired
Electric Cookers
We repair all the current and leading makes and models of electric cookers
Electric Ovens
We service and repair all leading makes and models of electric ovens
Electric Hobs
Our engineers are familiar with all the current models of electric hobs
Intergrated Appliances
All types of intergrated appliances serviced and repaired by our engineers
And More
The highest standards in the Domestic Appliance Repair Trade… Find out more.
Send a Message
Click here to send an Email