Appliance Repairs in Copthorne: Your Trusted Local Services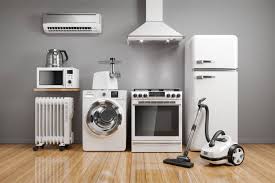 Welcome to our Appliance Repair Service in Copthorne, your go-to solution for fixing, maintaining, and extending the life of your valuable home appliances. We understand the frustration and inconvenience that a malfunctioning appliance can cause, and our mission is to provide prompt and reliable repairs to keep your household running smoothly.
Our Services:
Comprehensive Appliance Repairs: We specialize in repairing a wide range of household appliances, including washing machines, dishwashers, ovens, refrigerators, and more. Our team of experienced technicians is skilled in diagnosing and fixing appliance issues efficiently.
Emergency Repairs: We understand that some appliance problems can't wait. That's why we offer emergency repair services to address urgent issues swiftly. Our goal is to minimize downtime and restore your appliance's functionality as quickly as possible.
Regular Maintenance: Preventive maintenance is key to extending the lifespan of your appliances. Our team can schedule regular check-ups to identify potential problems before they escalate, saving you money on costly repairs or replacements.
Quality Parts: We only use high-quality, manufacturer-approved parts for all our repairs, ensuring that your appliances perform optimally and maintain their reliability.
Diverse Appliance Expertise: From white goods to kitchen appliances, we have the knowledge and expertise to repair a wide variety of appliances from different brands and models.
Why Choose Us?
Local Expertise: We are a local service in Copthorne, familiar with the unique needs and challenges of the area. Our team understands the appliances commonly used in local households and can provide tailored solutions.
Experienced Technicians: Our technicians are highly experienced and trained to handle various appliance brands and models. They are up-to-date with the latest repair techniques and are committed to delivering top-notch service.
Prompt Response: We understand the urgency of appliance repairs and offer a quick response time. Our team strives to schedule appointments at your convenience and aims to resolve issues promptly.
Transparent Pricing: We believe in transparent pricing, so you'll never have to worry about hidden fees or unexpected costs. We provide accurate quotes before starting any repair work.
Customer Satisfaction: Our ultimate goal is your satisfaction. We take pride in our work and are dedicated to delivering reliable, cost-effective appliance repair services that meet your needs.
Domestic Appliances
Domestic appliances are the unsung heroes of modern living, designed to make our daily routines more efficient and enjoyable. From the comforting warmth of a morning cup of coffee to the fresh laundry that welcomes you home, these appliances are essential in our homes.
Types of Domestic Appliances:
Kitchen Appliances: These include the essentials like ovens, refrigerators, dishwashers, and microwaves, as well as smaller appliances like blenders and coffee makers.
Laundry Appliances: Washers and dryers simplify the task of cleaning and maintaining your clothes and linens.
Heating and Cooling Appliances: Central heating systems, air conditioners, and fans provide climate control for year-round comfort.
Cleaning Appliances: Vacuum cleaners, robotic vacuum cleaners, and steam cleaners help maintain a tidy home.
Small Household Appliances: Devices like irons, hair dryers, and toasters are the everyday workhorses that we rely on.
Maintenance and Care:
Regular Cleaning: Keeping your appliances clean not only enhances their performance but also extends their lifespan. Clean filters, coils, and exteriors as needed.
Scheduled Servicing: Consider professional servicing for your appliances, especially for complex systems like heating and cooling.
Energy Efficiency: Use your appliances efficiently to reduce energy consumption. Simple measures like keeping the refrigerator door closed and washing full loads in the dishwasher or washing machine can make a difference.
Repairs: When an appliance malfunctions, don't rush to replace it. In many cases, professional repairs can extend its life, saving you money and reducing waste.
Our Domestic Appliance Repair Services:
We are engineers specialise in repairing a wide range of domestic appliances, including but not limited to:
Washing Machines and Dryers: When your laundry appliances stop working, it can quickly lead to a pile of unwashed clothes. Our experts are skilled in diagnosing and repairing various issues, ensuring your laundry routine is back on track.
Ovens and Cookers: A malfunctioning oven can throw a wrench into your meal preparation plans. We provide prompt and efficient repairs to get your kitchen appliances working seamlessly once more.
Refrigerators and Freezers: Keeping your food fresh and safe is a top priority. Our technicians are experienced in addressing cooling issues, leaks, and other refrigerator and freezer problems.
Dishwashers: A faulty dishwasher can mean hours of handwashing dishes. We can identify and fix issues to restore the convenience of a fully functioning dishwasher.
Small Household Appliances: Don't let a malfunctioning iron, vacuum cleaner, or blender disrupt your daily routines. Our team can repair various small household appliances to keep your home running smoothly.
Contact Us Today:
Don't let a malfunctioning appliance disrupt your daily routine. Contact us for expert appliance repairs in Copthorne, and our team will get your appliances back in complete working order. We are just a phone call away, ready to provide efficient, professional, and friendly service. Your satisfaction is our priority, and we look forward to serving you.
The range of appliances we repair and service includes…
Washing Machines
We repair all the current and leading makes and models of washing machines.
Tumble Dryers
We service and repair all leading makes and models of tumble dryers
Washer Dryers
Our engineers are familiar with all the current models of washer dryers
Dishwashers
All the leading makes and models of dishwashers serviced and repaired
Electric Cookers
We repair all the current and leading makes and models of electric cookers
Electric Ovens
We service and repair all leading makes and models of electric ovens
Electric Hobs
Our engineers are familiar with all the current models of electric hobs
Intergrated Appliances
All types of intergrated appliances serviced and repaired by our engineers
And More
The highest standards in the Domestic Appliance Repair Trade… Find out more.
Send a Message
Click here to send an Email